Over an Opening
The most common use of a transom for a dining room is over an opening that leads into the room. The transoms below are placed in cased openings in our standard installation.
OVER OPENING: Beautiful stained transom over an opening to dining room
Above Windows (Exterior)
Dining rooms are almost always placed along exterior walls with windows. Transoms can be added over these windows to add additional light or to coordinate the design between the exterior windows and other interior transoms in the home.
ABOVE WINDOWS: Built-in dining area with transoms that make the look
Over Doors
Although single doors to a dining room are less common than their double door counterpart, the transom above a single door in a dining room can be used to set a style for the room or connect the room to an adjacent room like a butler's pantry.
OVER SINGLE DOOR: Single door, but lots of style thanks to the transom
Above Doors (Exterior)
Double doors are less common for dining rooms but also provide an opportunity to coordinate interior and exterior styles while bringing the maximum amount of light into the room.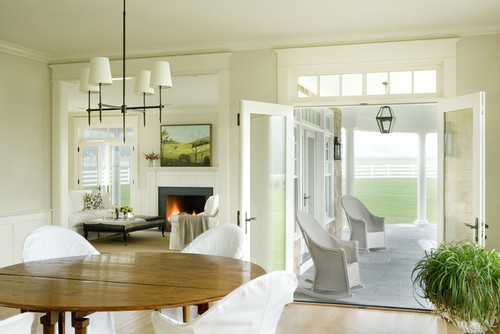 DOUBLE DOOR: This example was a good opportunity to coordinate openings - interior and exterior
Overhead in Wall
Interior transoms between rooms can be placed overhead between dining rooms and adjoining rooms like living rooms or halls. If properly designed — as the pictures below attest — transoms overhead between rooms can make dining rooms very unique. .
OVERHEAD IN WALL: Rare, but done correctly can very unique
Overhead in Wall (Exterior)
Overhead transoms are uniquely suited for dining rooms because these leave lower wall space available for furniture or pictures.
OVERHEAD IN WALL: Transoms allow light into dining rooms while leaving walls free
Wall Between Rooms
Operating or non-operating transoms can be placed between rooms in the middle of walls for a more extensive connection between the rooms.
BETWEEN ROOMS: Impressive windows in wall between rooms above opening
BETWEEN ROOMS: Operating windows connect two rooms together