Standard Installation
Share light from bedrooms into adjacent rooms with transoms placed on interior walls. The picture example below shows an exquisite wood panelled wall with a stained transom that is sharing light with a bathroom behind the wall.
Hints: Place transoms higher in walls to improve privacy -- or use frosted or other types of artistic glass to obscure the view.
STANDARD: Paneled wall with stained transom separating bed from bath
Bathrooms come in many shapes and sizes, but typically have two common issues: they could use more light, and they could use more ventilation. Enter transom windows.
The picture below is showing the backside of the stained, paneled bedroom wall picture from above. The overhead transoms from the bedroom bring light from the paneled glass in the bedroom into the bathroom.
STANDARD: Back side of bedroom has transoms over sinks
Here is an excellent use of a transom placed overhead along the entire wall of an interior bathroom. Notice the choice to run the entire wall, not just above the door.
STANDARD: Whole wall-length transom provides light to interior bath
Variation - Ganged Transoms
This foyer/hallway shares light with an adjacent room through the use of multiple, ganged transoms placed in series overhead in the wall. Note the careful alignment of the overhead transoms with the transom over the opening near the front door.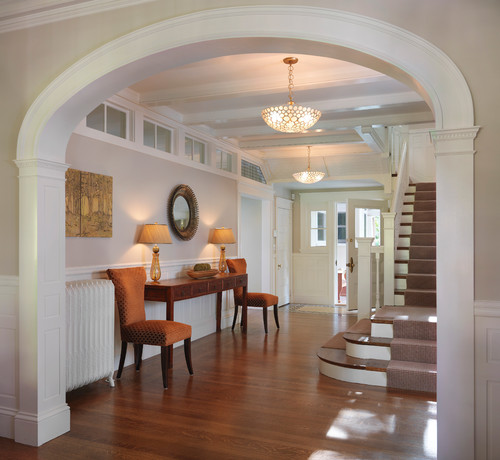 STANDARD: Hallway with ganged transoms high in wall
Customization - Operating Transoms
With creative uses of transoms in overhead locations designers can solve unique design challenges as in the Feng Shui implementation below.
The transoms below are operating using a pivot hinge.
STANDARD Operating transoms used high in wall between rooms