Over a Door
Notwithstanding the beautiful pictures below, many bathrooms have no windows at all. So transoms windows over a door can be an easy way to bring natural light from a hallway or a bedroom into the bathroom.
OVER A DOOR: Transom over door from hall to a casual bathroom
Over an Opening
Openings to shower stalls or transitions from vanity areas to the shower area can be an interesting place for transom windows. Operating transoms can even provide ventilation in steamy places. We make these style transoms out of exterior grade material.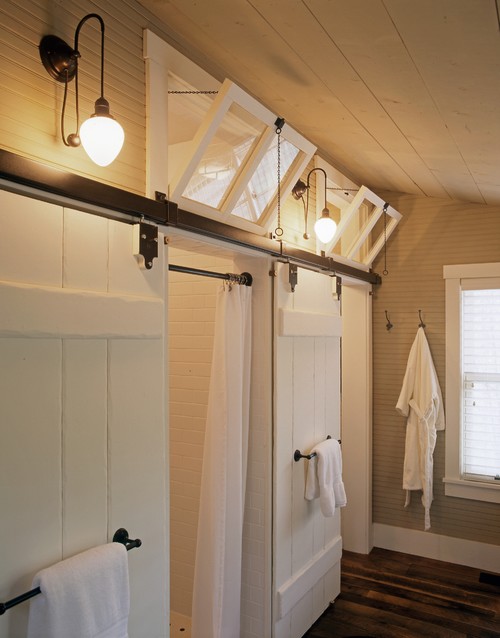 OVER AN OPENING: Operating transoms ventilate shower stalls
Overhead in Wall
Sometimes a transom can be added to link two rooms together by adding the transom overhead — above vanities or a shower. Not only does this share light, it creates a very unique look.
OVERHEAD IN WALL: Overhead transoms above vanities and a shower in a bathroom
Along a Wall (Exterior)
Probably the easiest place for an exterior transom window is above a shower or tub/shower combination. This brings exterior light into the bathroom, but does require coordination with the tile shower walls.
One option is to surround the transom completely as shown below.
More typically, customers hold the tile short of the transom — placing the transom (and its casing) immediately above the top of the tile on the wall.
OVERHEAD IN WALL: Transom above a shower that is integrated into tile